Fall is finally here. Leaves are changing colors, Halloween decorations are being put up in stores, and people are chugging pumpkin spice lattes. It's a great time of the year, but I still need to update everyone on my summer season!
At the beginning of June, I was honored to perform in a benefit for the late Nate Ellis. Nate was the Director of Education and Training at Contra Costa Association of REALTORS and Director of Education at CCAR. He was a very inspirational man who touched the lives of many. Sadly, 2 years ago, Nate started to develop weakness throughout his body that worsened over time. After he passed, his friends and family organized a benefit event featuring music, raffles, and auctions with the goal of creating a perpetual scholarship in Nate's name through Contra Costa Association of Realtors, and I'm happy to say it was very successful! You can watch my performance here: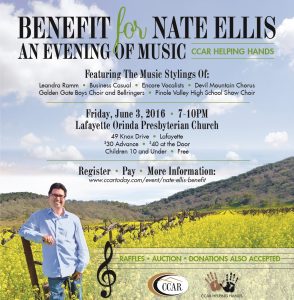 A few days later, the city of Berkeley celebrated their Festival of Early Music. I sang with San Francisco Renaissance Voices to celebrate Saint Mark's Episcopal Church's sixth annual Boar's Head Festival. I love this event – it's a blast for both performers and the audience alike! This year, we had Susan Gundunas join us as our Queen Elizabeth I, the San Francisco Renaissance Dancers entertained with some nice moves, and Celtic/Early Music band Broceliande provided instrumental music. Juggler Douglas McNeely entertained the crowds with his impressive skills, and we even had a visit by Master Will Shakespeare himself 😉
I recently performed with the San Francisco Renaissance Singers, Volti, and other early music groups for a benefit concert. On September 30th, the historic First Congregational Church in Berkeley was engulfed in flames. Most of church complex was destroyed, but, miraculously, the Sanctuary, which has hosted literally hundreds of Early Music performances over the years and one of the main venues for the Berkeley Festival and Exhibition of Early Music, survived but will be unusable for quite some time to come. Derek Tam, music director of First Congregational Church (and also our Director of Educational Programs) has pulled together a benefit concert the evening of October 18th that included some of our singers from San Francisco Renaissance Voices as well as other Early Music musicians from around the Bay Area that use the church as a performance and rehearsal space.
On June 17th, I participated in a show called "Divas and Divos: Arias and Art Songs from around the World." My wonderful colleagues Meghan Michelle McGovern, Susan Thampi, Mason Gates Neipp, David Zelenka, and I performed pieces from Italy, Norway, France, Sweden, and the US at St. Paul's Episcopal Church in Walnut Creek, California. I performed 10 pieces ranging from Mozart's Et exultavit to Cherubino's aria from Le Nozze di Figaro to Solveigs Sang by Grieg. There's something special about performing in a church. The acoustics are very different from an opera house. The reverb is a hauntingly beautiful sound in person. We are fortunate that the concert was filmed, and I'm excited to share parts with you! Below are some highlights, but you can also see the playlist of all the pieces I performed here.
July was spent with the San Francisco Symphony Chorus. At the beginning of the month, we performed Mahler's beautiful Resurrection Symphony. Bachtrack gave the chorus a glowing review:
The SF Symphony Chorus, prepared by Ragnar Bohlin, Chorus Director since 2007, was a revelation. They did a spectacular job in every respect, and in every vocal section. During the excellent pre-concert talk given by Laura Stanfield Prichard she explained that Mahler emphatically insisted that the four-part chorus for this symphony be sung by equal parts male and female singers rather than by all-male choruses employing boy sopranos/altos, as was the custom of the time. Ms Stanfield-Prichard connected this to Mahler's support for Universalist beliefs that only men and women together, as equals, could fully represent humanity and build unity through sound. And indeed, the sheer power of these final choral segments with the orchestra must have been (even more!) completely overwhelming for his early listeners, due to social, cultural and spiritual reasons even beyond the musical ones.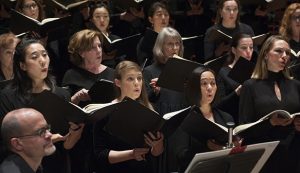 Here are 2 pictures from the concert including a picture by my colleague John A. Vlahides where you can see the stage as the chorus sees it!
How do you top a performance of Mahler? Well, it's hard, but we tried with Beethoven's very famous 9th Symphony a week later. Even those who aren't familiar with classical music know the 4th movement, Ode to Joy. Don't know it by name? Give it a listen here! Fun fact: Mozart was the first major composer to include a chorus and vocal soloists in a symphony. Thanks, Maestro 😉
Here are some pictures from our curtain call. Our soloists included soprano Wendy Bryn Harmer, mezzo-soprano Zanda Šv?de, tenor Mario Chang, and bass Adam Lau.
Beethoven's 9th with @SFSymphony & Chorus and soloists Wendy Bryn Harmer, Zanda Šv?de, Mario Chang, Adam Lau. pic.twitter.com/uttv0B52xf

— Cristin O'Keeffe (@Aspasia_1) July 9, 2016
My summer season ended with Janácek's "The Cunning Little Vixen" at West Edge Opera. The company was looking for an established chorus and contacted Volti to see if there would be any interest. Needless to say, we were all elated to take on roles in an opera. I was assigned the role of the rooster – he wasn't a very nice rooster and I had to die on stage, but he was certainly fun to play! "The Cunning Little Vixen" was given rave reviews! Here's what the press had to say about me:
"Three choristers ably filled small solo roles—most notably Leandra Ramm, whose clear soprano and exaggerated strut were perfect for the rooster." – Ilana Walder-Biesanz for Bachtrack

"In the supporting roles…Deborah Rosengaus earned laughs as the old dog Lapak, and Leandra Ramm strutted with purpose as the hormonal Rooster." – Georgia Rowe for Mercury News
Something unique about performing with West Edge is that their whole summer season was performed in Oakland's abandoned train station. Music knows no bounds!
The fall season has started, and it's been nothing but fun. Can't wait to tell you all about that in my next post!
Stay tuned for a special announcement soon!