May was a busy month! Rehearsals, concerts, recording sessions, and semi-staged events with the San Francisco Symphony! So much to do, but I wouldn't have it any other way. The music we performed last month has all been vastly different, but music has a special power in that it can touch people in different ways, and May's music was no exception.
For the past 2 seasons, I've been fortunate enough to sing with some of the Bay Area's best singers in different ensembles. One of which is an a cappella group called Volti. Chamber choirs are sometimes a dime a dozen, but what I love about Volti is that we focus on composers who are still alive. Don't get me wrong, I love the classics – after all, they're classic for a reason – but to work with the composers themselves allows for us interpreters to uncover new aspects of a piece from the source himself. It's the ultimate master class!

Earlier this month, Volti finished out our 37th season when we performed 2 concerts called "Paging Through" and introduced our CAL composer for 2016, Tonia Ko, a Hong Kong-born, Honolulu-raised composer and visual artist. Tonia wrote a beautiful piece based on Virginia Woolf's short story Monday and Tuesday, and it was one of my favorite pieces of the evening. We also reprised a work we'd premiered in 2011: Kui Dong's "Painted Lights." This piece was staged and implemented by our Executive Director Barbara Heroux.
Here is also a soundcloud link to "Monday" and "Tuesday" performances:

We finished out our evening with works by John Muehleisen, Eric Banks and Paolo Longo. We were also lucky enough to be joined by the Piedmont East Bay Children's Choir who performed "Ikikaiku (Eternal Echo)" by Finnish composer Olli Kortekangas.
The marathon weekend continued on Sunday when Grammy Award winning-choral director Ragnar Bohlin and his top notch group Cappella SF presented an all-Norwegian concert in collaboration with the Norwegian community here in the Bay Area to honor the 202nd Norwegian Constitution Day (Nasjonaldagen). The Cappella SF concert was such a beautiful experience in a very beautiful church with great acoustics to a very appreciative audience. We had a lovely reception downstairs afterwards in which we sang a second encore as well.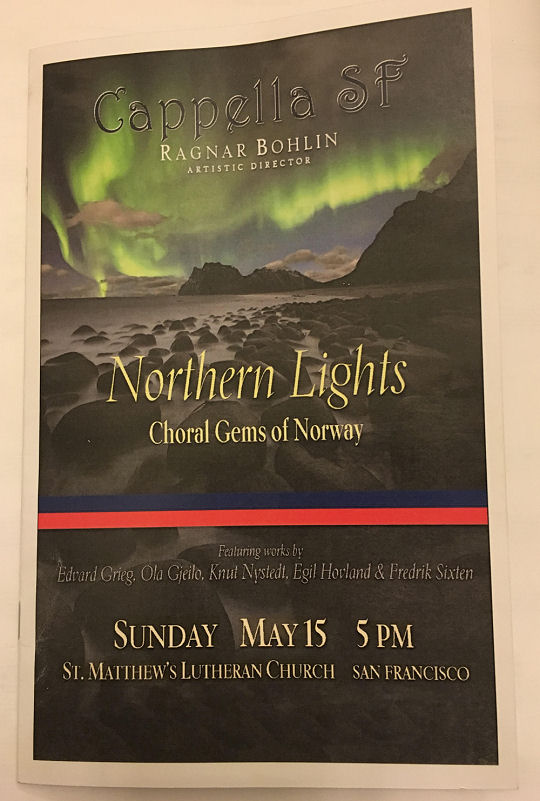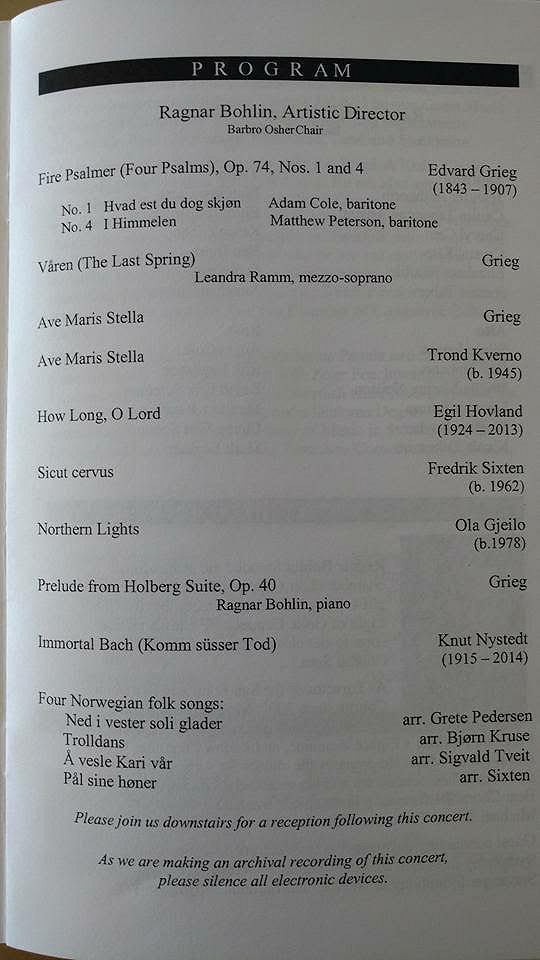 Voice students at conservatories are traditionally trained to sing in Italian, French, German, and Russian, so Norwegian was something different. It isn't my first time singing in a Scandinavian language, though. Last year, I gave a mini recital in Swedish at the Palace of Fine Arts. Swedish and Norwegian are similar languages, but they're also different and require specific diction for each. It takes time to get comfortable singing in a foreign language, but it's a fantastic way to connect with someone's culture. It's much more personable than singing a translation.
A few weeks prior to the May Cappella SF concert, I had the honor of singing a few Norwegian songs at the Norwegian Consulate. Here are some more pictures from the evening:
[smartslider2 slider="2″]
After a busy weekend performing 3 concerts, I started up my next week in the recording studio with Volti. There, we recorded the Dong piece, "Painted Lights," that we'd performed just 2 days prior. Looking forward to hearing how that turns out!
A few days later, the members of Volti took a little boat trip around the Bay to celebrate a successful season! Here's me and Rachel Rush enjoying the cool breeze:
I'm so lucky to perform with such talented musicians at such a high musical level (and so lucky as well the schedule worked out to allow me to perform with both groups in one weekend). I believe I am working with the Ivy League equivalent of musicians these past two seasons and it's so rewarding! Now on to June, with many more musical adventures!
Hugs,
Leandra