Date/Time
Date(s) - November 15, 2015
3:00 pm - 6:00 pm -
Location
California Theatre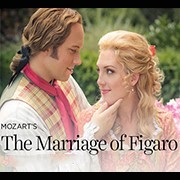 Change is in the air and Figaro's world is turning upside down. On the eve of the wily barber's marriage to Susanna, Count Almaviva's wandering eye has landed on the lovely bride-to-be.
Servant and master go head-to-head, and even the Countess herself must spring into battle when she learns of her husband's plans. Or is she embroiled in a liaison of her own?
Through Figaro and Susanna's clever manipulations, the Count's love for his Countess is finally restored.